Suzuki Bandit S
Staying Ahead Of The Curves
So successful it spawned a whole class – budget middleweight roadsters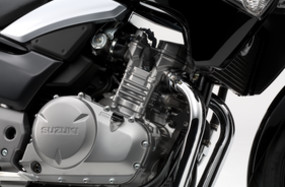 248cm3, liquid-cooled SOHC in-line 2-cylinder engine
has user-friendly characteristics in low-to-mid range engine speed to match with a variety of riding conditions.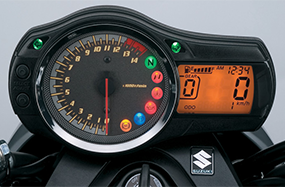 The multi-function instrumentation
displays a variety of information. In the centre, there is large analogue tachometer with convenient digital gear position indicator. It's flanked by a digital LCD speedometer, odometer, twin trip meter, clock and fuel gauge readouts, maintenance interval indicator and adjustable rpm indicator on the right, plus LED indicators on the left.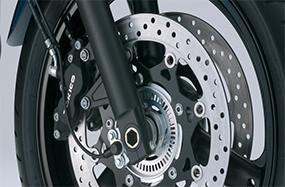 Brakes
Twin clutch brakes with drilled disk with an ABS for better imporvement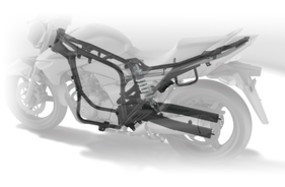 Athletic Chassis
The INAZUMA's semi double-cradle chassis is designed to provide ample support for a variety of riding styles, while humbly securing this naked bike's more visible and prominent features.
Ride Quality & Brakes
No glitter or baubles here, but the back-to basics steel-tube cradle chassis does a decent job. Cheap, unadjustable forks are a little on the soft-side but overall the Banfit handles well enough for most and is comfortable and practical, too.  For the money, you certainly won't be complaining
Insurance, running costs & value
The Suzuki GSF600 Bandit's sheer value for money. It's always been the cheapest in class and if theYamaha FZS600 Fazer knocked it off its perch in pure performance terms, the GSF600 Bandit still rules the roost when it comes to squeezing every last pony out of every pound spent. You can buy cheaper, you can buy better, but nothing has ever had absolute value nailed to it quite like a Suzuki GSF600 Bandit. Find a Suzuki GSF600 Bandit for sale.
Engine
Derived from the old 'teapot' oil-cooled GSX600F. The Suzuki GSF600 Bandit is outdated as a supersports, but fine as an all-rounder. Free-revving, flexible-ish, novice friendly and solid as old boots. The GSF600 Bandit isn't cutting edge, but no messing honest instead.
Front Fork
Telescopic front forks soak up bumps for smooth tracking up front – whether riding rough city streets or faster open roads.
Build Quality & Reliability
Forget the budget price for moment, the Suzuki GSF600 Bandit is a solid deal. In a nutshell it's made by a repoutable manufacturer and is using proven, old tech components – so what can go wrong? The answer? Not a lot. That said, GSF600 Bandit's often dropped (by novices), caned, ridden through winter not always maintained properly and generally given a hard time, so inspect closely.
Suspension
Rear suspension action is handled by a mono-shock system that stays hidden from view to amplify the bike's style. With seven-way adjustable spring preload, the rear suspension adds to its versatility.